oil change outlaw 525 450 rfs ktm how to
---
this is a fairly simple procedure that every outlaw owner has mastered after the first time but i still get a lot of questions and horror stories so here it goes.
the outlaw 525/450 oil change includes 2 standard oil filters, 2 screens and about 1 3/4 to 2 quarts. with my polarisbob oil cooler adapter, oil cooler, and lines i use between 2 to 2 1/4 quarts. i just used a little funnel and filled the lines and cooler until it came out the other end then it was full. when i change the oil i just pop the lines off and blow them out. then fill with a funnel again. the entire mount in my quad now is 2,000 to 2,050 ml so about 2.15 quarts. the actual amount my cooler lines and adapter took in addition to the 1,700ml was another 350ml or so. i think it is a little low and could use between 2 1/4 to 2 1/2 quarts.
i like to drain the oil from the main drain plug and short screen from the bottom of the engine first. i also like to remove the oil fill cap to help the oil to drain faster and more thoroughly.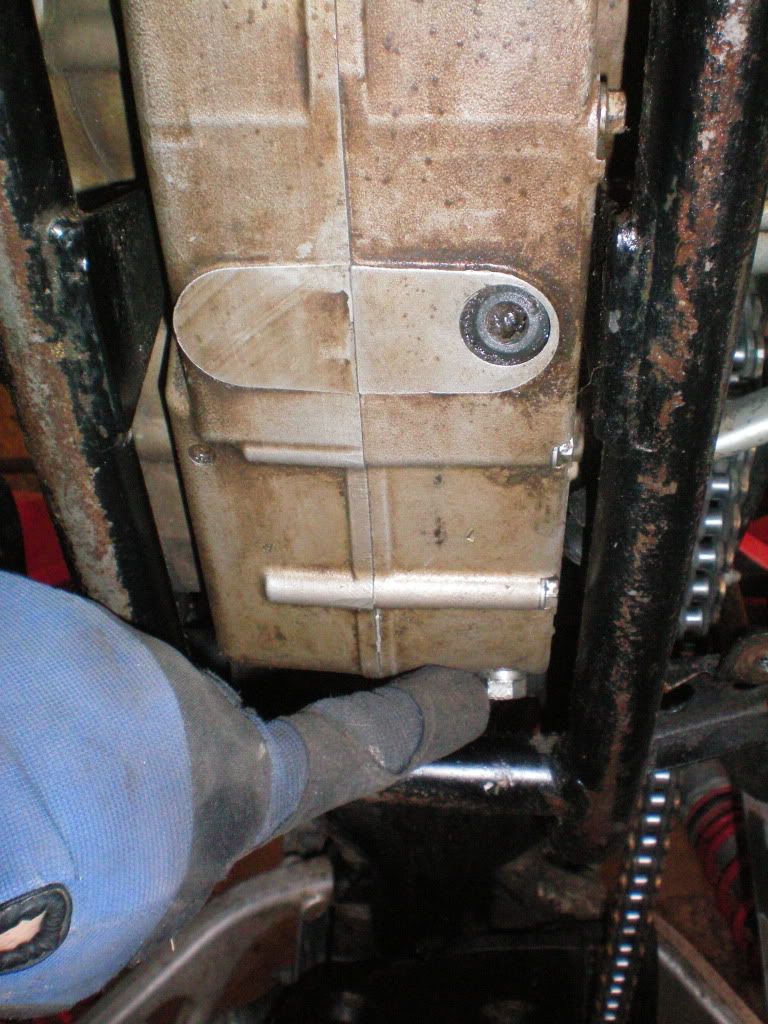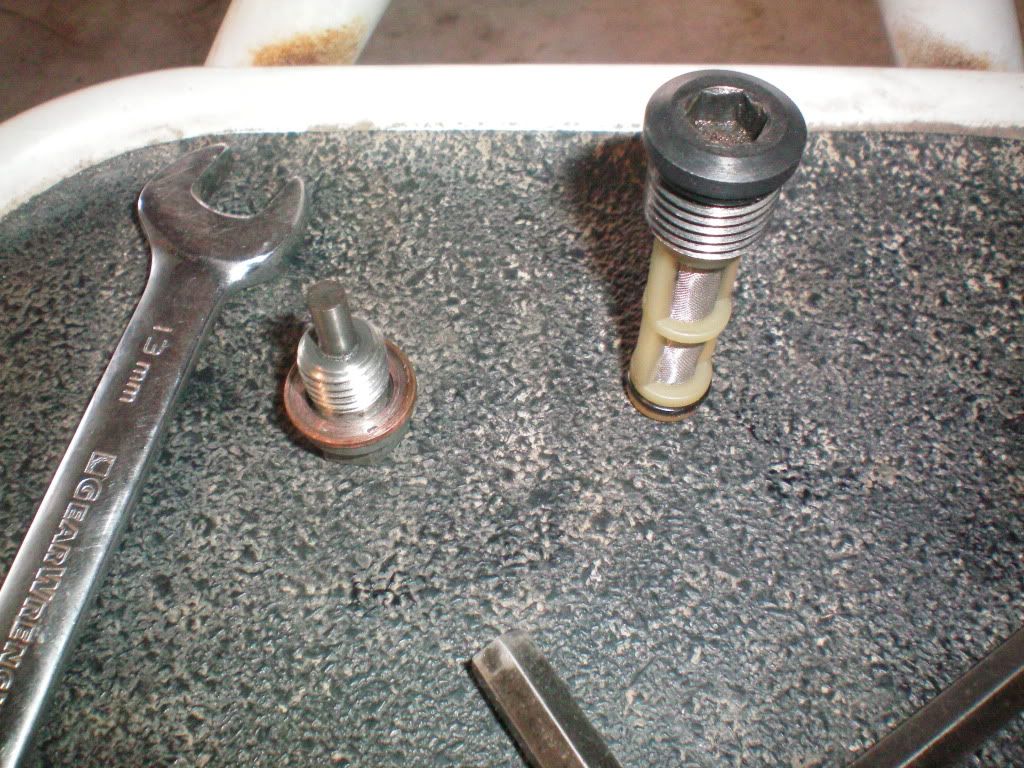 you can leave your skid plate on if you like nightmares and lots of oil and dirt caked in between it and your engine. it is best to remove it first and it is only 4 10mm bolts. it is nice to remove and clean anyway.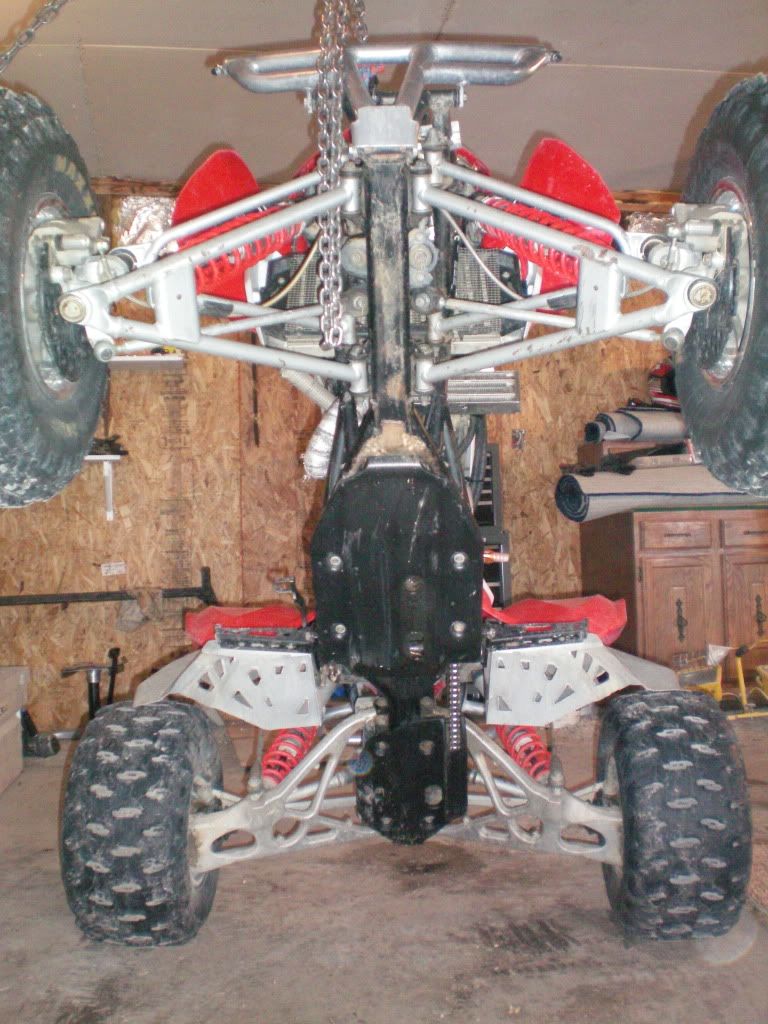 i like to use my ceiling hoist to lift the front of the quad all the way u to remove it. then i lower it back down for the first part of the draining. once most of the oil has drained i then lift the quad up to about a 45 degree angle or more and another cup or so of dirty oil comes out.
next i remove the long screen from behind the shifter. i tape the shifter to the frame to keep it out of the way. most of the time when you remove the cap the long screens comes out with it. be gentle when you pull it out so you do not drop the screen in the bottom of your engine and have to fish it out.
[IMG]http://i1213.photobucket.com/albums/cc480/LEOGM5150/100_034]
i clean both the screens with compressed air carb cleaner and a toothbrush to get all the little fine shavings of metal off of the screens and out of my engine.
putting it back in takes a little bit of delicate work. most guys use a long allen wrench with the screen slid on it. then you insert the end of the wrench all the way to the back of the hole. i have to use needle nose pliers to then lightly press the screen into its seat. my fingers are too fat. putting in all the plugs caps and bolts should be done gently, ju to being snug, as all these bolts can strip out the holes in the engine easily.
next you can reinstall the lower short screen and drain plug once they have been cleaned also.
removing the oil filters is very easy. just behind your starter below your carb are 2 caps with 2 8mm bolts each. the front one is the long one and the rear one is the short one. in my case i only have the front long one as the rear short cavity houses my polarisbob oil cool adapter that feeds my oil cooler before routing it back to the engine. there is a large o-ring that is inside the filter cavities. remove the filter covers with a pair of pliers. then pull out the filters using a pair of needle nose pliers or reverse snap ring pliers.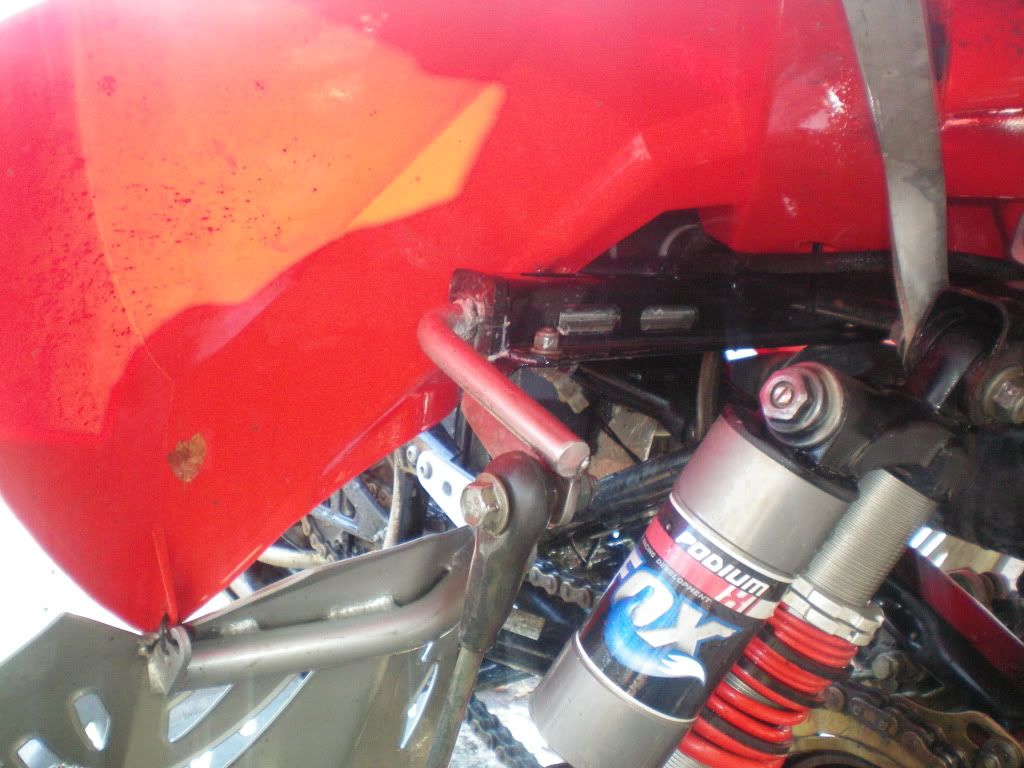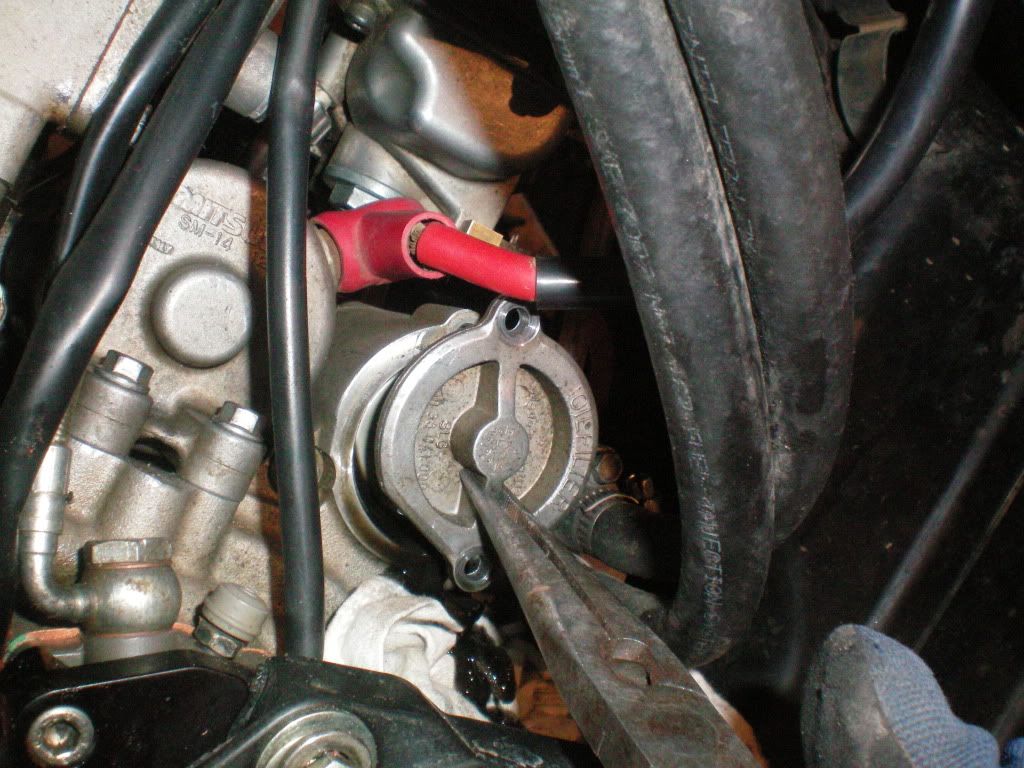 wipe up all the oil, then you are ready to install the new filters. always fill your filters up with clean oil before installing. installing dry filters is a good way to heap extra wear on your engine during startup and also end up with air in your lines. they just push into their sockets, the rubber grommet slips onto its nozzle and you can feel they are seated. then pu on the covers and snug up the 4 8mm bolts.
now you are ready to add your oil. make sure your quad is on a level surface. if you have gotten all of the oil out of your engine it should take about 1,700ml or 1 3/4 quarts. it might take as much as 2 quarts but start with 1 3/4 run it for 30 seconds to a minute and then check your site glass. cold it should be half way or less. oil expands and when it's hot after riding a while, it will be 3/4 of the way up your site glass. that is as high as you want to see it or you will end up with blown gaskets and seals. too much o is not a good thing at all.
this picture is after it ran long enough and hot enough to turn on the fan. when it is cool and has only run about 1 minute it should be in the 1/4 to 1/2 glass range.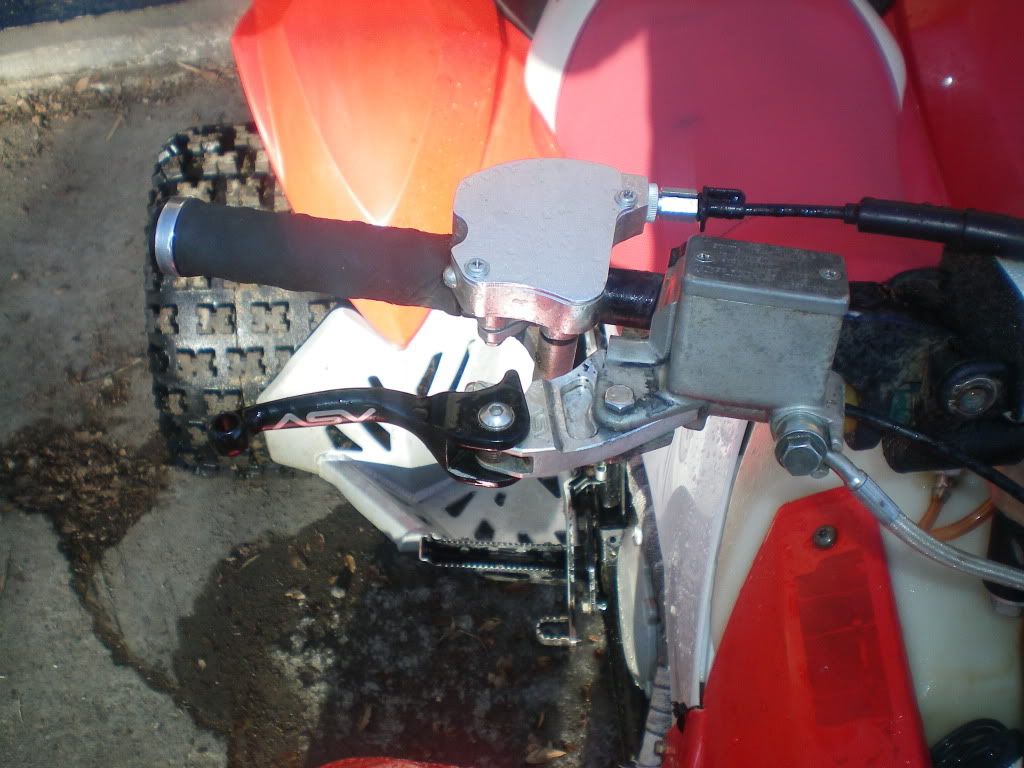 if you have a oil cooler adapter and lines you will have a bit more oil capacity. how much will depend on your lines diameter, length and cooler size. with my setup i end up with between 2 1/4 to 2 1/2 quarts total capacity. even with all the extra steps i take to lift and drain the engine and i even put it in fifth gear raise the rear of my quad and turn the engine over by hand to pump out as much oil as possible. i never put in more than 2 quarts. the engine with alway hold some. that includes filling the filers.
[IMG]ht]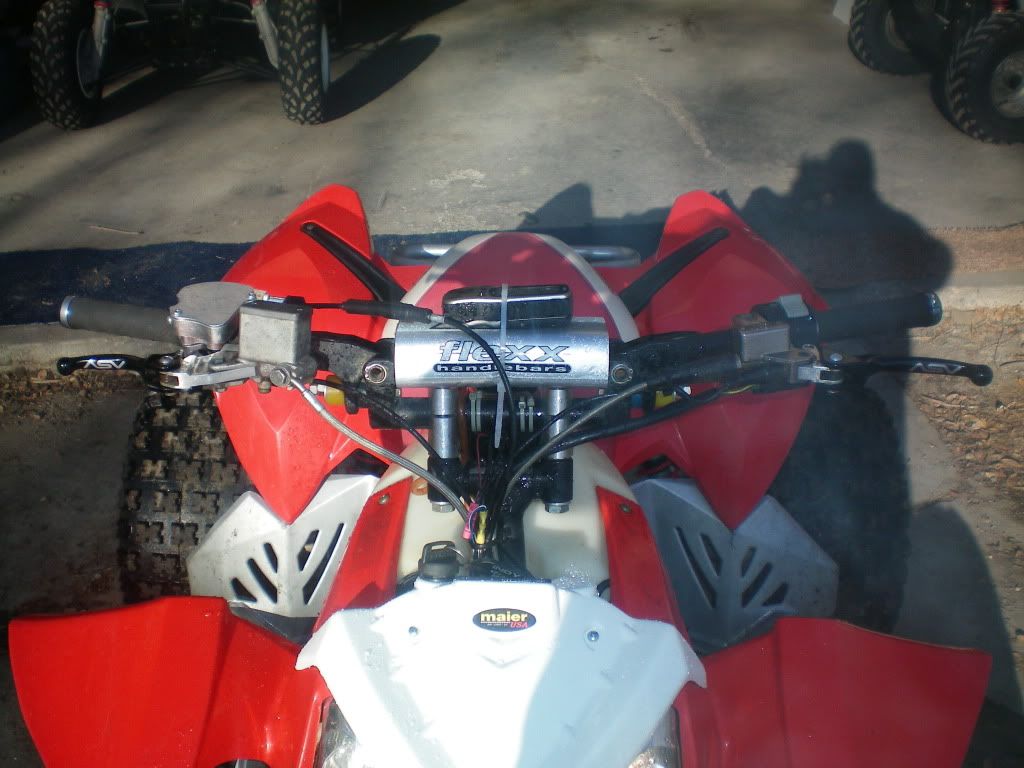 i only change the filter every other oil change. i change the oil, and clean the screens every 10 hours of run time. normally a full oil change takes 15 to 20 minutes. today it took me 5 hours from the time i started until now. i hope this helps someone.
here also is a video link from youtube rmatv on a step by step rfs oil change.
http://www.youtube.com/watch?v=6KFE5dO34Sc&feature=related
here is another with a oil cooler.
http://www
---
2007 OUTLAW 525 IRS

2001 400 TWO STROKE SCRAMBLER